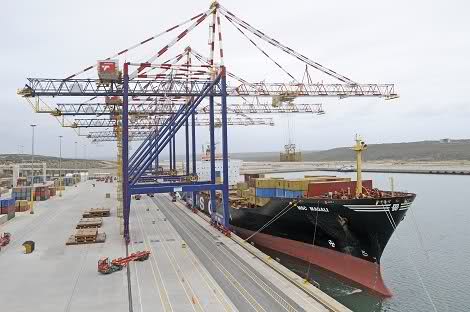 Following the introduction of a Flexible Forex regime by the Central Bank of Nigeria (CBN), private investors running the nation's seaports have predicted an increase in the cost of doing business at the ports.
Speaking with the Nigerian Tribune in an exclusive interview, the Managing Director of one of the biggest shipping lines in Nigeria, Grimaldi Agency Nigeria Ltd, Mr Ascanio Russo, predicted that the new forex regime introduced by the CBN will affect the cost of doing businesses at Nigerian ports.
Mr Asacnio Russo whose company operates the Port and Terminal Multi-services Limited (PTML), however, explained that the move is a welcome development as it will bring about clarity and transparency in Nigeria's economic terrain.
According to him, "we believe that the new CBN policy on forex is the right step in the right direction. However, we are waiting to see the impact on Nigeria's international trade. In principle, we believe the move is positive because it will bring clarity and transparency to the economic terrain. Eventually, it is going to be good for the Nigerian economy."
On the impact on the volume of trade at the port, Ascanio explained that, "it will be very difficult to make any prediction on its impact on the volume of businesses at the ports right now.
"We will need to access it in the next few weeks to be able to give a candid opinion on that.
"Why it is difficult to give an outright prediction of the new policy on the volume of trade at the ports right now is simply because the new policy will lead to the devaluation of the naira; which in turn means importers will now spend more to bring in goods into the country.
"Again Customs Duty will automatically go up because they will be calculated on the new foreign exchange rate. By the time Customs Duty goes up, we shall then see where the naira will balance with the dollars.
"With all this indices, it is very difficult to calculate if there will be a reduction or growth in the volume of businesses at the ports. But in the long term, it will bring clarity and transparency which are positive indices for business predictions," he added.
Speaking with the Nigerian Tribune, the Seaport Terminal Operators Association of Nigeria (STOAN) explained that with the new forex policy, the cost of running the ports will definitely go up.
The STOAN image maker, Bolaji Akinola, said that "we welcome the flexible forex policy which floats the naira and allow it to be determined by market forces. Although it is coming a bit late, it is better late than never.
"Now that the naira has been devalued technically, what it means to we port operators is that our cost of running the ports will go up. It will increase our cost of doing business because most of our commitments are in dollars.
"However, the policy brings stability to the system and that will enhance predictability for private investors like us."
Source: Tribune