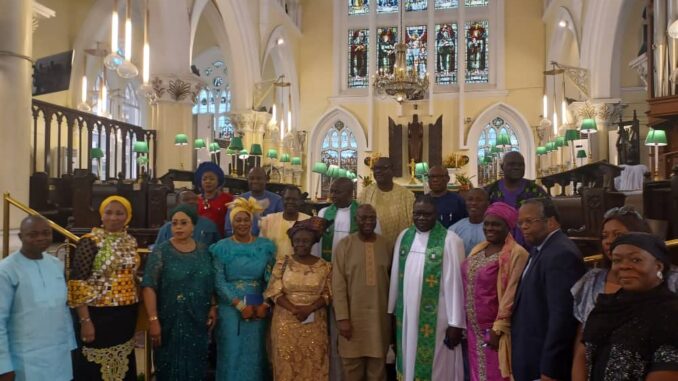 Chairman, Seaport Terminal Association of Nigeria (STOAN), Princess Vicky Haastrup and former Managing Director of Nigerian Ports Authority (NPA), Chief Adebayo Sarumi were among dignitaries that graced this year's Sea Sunday service held at the Cathedral Church of Christ, Marina, Lagos.
The service was organized by the Mission to Seafarers (MTS) Lagos – a Christian charity organisation under the Lagos Anglican Diocese.
Supervising Bishop of the Diocese, Olusola Odedeji, in his sermon at the service, said the no effort is too much to ensure seafarers enjoy adequate spiritual, mental and physical care. He commended MTS for taking the gospel to seafarers who spend significant time away from home, family and friends in order to move trade around the world.
The Chairman, Mission to Seafarers Lagos, Chief Adebayo Sarumi said the body has been supportive of seafarers for decades.
"We visit them, talk to them, exchange pleasantries with them and get to know what their problems are. We handle the ones we can and send them to professional groups like psychiatrist, lawyers, doctors etc. Also, they can go to our centers for relaxation to cool their nerves and speak to their families," he said.
STOAN Chairman, Princess Vicky Haastrup said the seafarers suffer a lot of issues at sea so it is important to celebrate and support them.
The Vice President, Nigerian Maritime Law Association (NMLA), Olumide Sofowora (SAN), in a message delivered on behalf of the association, solicited support for MTS to enable it fulfill its assignment.
Sofowora said that seafarers, in the course of duty, are prone to psychological problems like suicide, depression, piracy and armed attacks, illness and lack of shore leave, "so they need to be appreciated and catered for".
He said the Mission to Seafarers caters to the needs of global seafarers in 50 countries and more than 250 ports in the world and has a center in Lagos where it provides ship visits and coordinates other aspects that supports seafarers' welfare.
"We provide home from home for the seafarers or a safe transit point when they leave the vessel. We attend to the welfare needs of these seafarers so they can maintain our way of life and needs," he said.