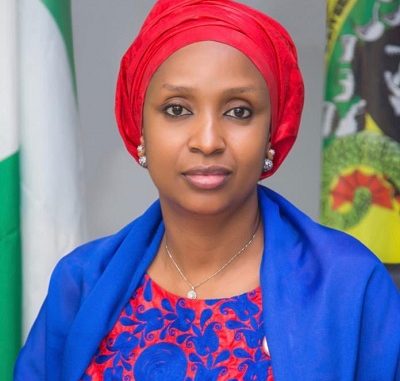 The Managing Director of Nigerian Ports Authority (NPA), Hadiza Bala-Usman has commended Tin Can Island Container Terminal (TICT) for training the first set of female crane operators in the country.
The five female crane operators – Oni Taiwo Omotayo; Tina Onwudiwe; Adewale Adegoroye; Adeniran Maltida and Ajayi Oluwaseun – are the first set of women to be trained in heavy duty cranes operation in Africa.
They were officially inaugurated by the terminal operator in Lagos in November 2017.
Speaking while presenting a paper on "Improving the participation of women in the ports" at the recently concluded 3rd World Maritime University Conference in Malmo, Sweden, Bala-Uman said, "Last year for instance, TCIT, one of our terminal operators, recruited the first set of female crane operators in Nigeria. We have assured all stakeholders of our readiness to partner with them on this front."
The NPA Managing Director said the world must constantly remind itself that women matter in nation building.
Several other stakeholders have also commended TICT for empowering women to achieve their dreams in a male-dominated environment.
"What is interesting is that we were able to bring in women operator into our industrial equipment conduct, which means that it is an additional opportunity for women in Nigeria and also a role model within and beyond the continent that women can actually turn into equipment operator in what has traditionally been a man dominated industry.
"Nigeria is the largest economy in Africa and Nigeria is also showing the way for women employment into the port industry. So it is setting the pace for others within Nigeria and Africa as well. It is showing that there is a way to show the mindset not on gender but on capability merit," TICT Managing Director, Mr. Etienne Rocher, had said during the unveiling of the female crane operators by the company in 2017.
Bala-Usman, who was guest at the event, expressed delight and commended TICT for the initiative.
"I will like to see more women being engaged in port operation activities. TICT has done something very impressive with the fact that they have realised the skill and capacity of women and they have trained them and engage them doing this job.
"I am very impressed with the terminal operator and I call on other terminal operators to do same and have women engaged in port operations just as the first female NPA MD, I look forward to seeing more women actively engaged in port operation.
"I believe Nigeria as the giant of Africa is trail blazing today by having women operating RTGs so we will continue to lead the pace in Africa," Bala Usman had said.
Source: Ships&Ports