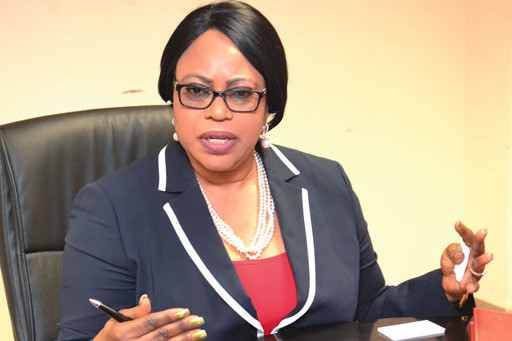 Princess Vicky Haastrup, the Chief Executive Officer, ENL Consortium Limited and Chairman, Seaport Terminal Operators Association of Nigeria, speaks with COMFORT OSEGHALE about the difficulty of doing business at Nigerian seaports
What are the major challenges facing port terminal operators?
In the last six to nine months, it has been practically impossible for anyone to get dollar to import goods into Nigeria. Nigeria is an import-dependent country. So, we had trouble making profits. Our income couldn't support our liabilities, particularly in the payment of salaries and welfare packages. The normal thing to do is to disengage workers. However, I am really hopeful about the sector. The Central Bank of Nigeria's decision to allow market forces to the exchange rate is a welcome development. It is good for business to some extent. Hopefully, importers will be able to access foreign exchange. The major challenge was the unavailability of the dollar. Now that it is readily available for importers, this should, to some extent, have some impact on the volume of cargoes coming to Nigeria. Maybe not totally because we still have some restrictions. So, until those restrictions are removed, then we can get to where we used to be.
What are these restrictions?
There is the issue of the 42 items, which do not have access to forex. The government should revisit that policy, examine it and prioritise. They should look at areas where they can relax some rules, so that they don't put unnecessary burden on the Nigerian people. At the end of the day, the cost of these commodities, which Nigerians really need, is exorbitant because they are partially or outright banned from accessing forex.
It will get to a point when we will export cargoes in massive number but we are not there yet; it takes time. For now, in order not to cause unnecessary pain to the Nigerian people, some imports have to continue. People also need to get access to forex, especially for manufacturers who need to get materials for their factories.
Would you say the port concession has been a success?
Yes, the aims and objectives of the concession have been achieved to a great extent. Doing business at the ports has become less cumbersome than what it used to be although there are still a few areas of cumbersomeness. The Federal Government is generating more revenue than ever. The ports are now more efficient; the lay time of vessels has been reduced from 10 days to three days in some cases. This, to me, translates to less cost of doing business in the port because time is of the essence in shipping.
Seaports across the country have also witnessed more development; more equipment to discharge the ship and make deliveries. There is a marked difference in what the ports look like now physically from what they used to be.
What areas of port operations are still in need of overhauling?
The multiplicity of government agencies at the ports; there are more agencies than should statutorily be there. A situation where you have the Standards Organisation of Nigeria, National Environmental Standards and Regulations Enforcement Agency, National Drug Law Enforcement Agency, National Agency for Food and Drug Administration and Control and so on; having these multiple agencies does not help the process. There is no other place in the world where you have such number of agencies operating within the port system. That constitutes some cumbersomeness to the clearing process, which urgently needs to be streamlined.
Then there are also the port access roads; they are in a dilapidated state. It is frustrating going in and out of the ports through these roads. There are basically two main roads that link the Lagos ports: Apapa and Tincan. This is not sufficient. There should be more roads linking these ports. When the seaports were built, particularly the Apapa Port, the government did not envisage this growth. We have the largest population in the whole of West Africa. When you look at the explosion of growth in terms of economic growth and the human traffic that come to the port for business, it is something that was not conceived before. If we had thought about the growth and expansion, the port would not have been built where it is now. If we want Nigeria to be the hub of West African ports, we need to provide infrastructures that would spur such growth.
With the plan to review the auto policy, do you think Nigeria can get back cargo lost to neighbouring ports?
I think to some extent we can. If there is any policy that needs an urgent review, it is the auto policy. It has put unnecessary burden on Nigerians. How many Nigerians can afford to buy brand new cars? As for those made-in-Nigeria cars, they are only being assembled here.
Prior to this time, if you had N1m, you could get a good fairly used car that could serve you for four years before it could pack up. But now, it is not so. It will always be the rich that will buy brand new cars which ultimately does not help the economy, because they are few in number. Why ban the importation of fairly used cars? Before Nigeria becomes an industrialised nation, to the extent of making cars, the infrastructure has to be in place. Until we have that in place, why deny Nigerians of using fairly used cars? The timing for this restriction is wrong. The government should find the right time to apply that policy but it is not now.
How are you supporting the government's export drive?
What we have done is to keep tariff on exports low. This is because we want to encourage the exportation of goods. As a matter of fact, for exports, we are offering our services at a loss. We have to augment. We have to pay dockworkers that load for export the same amount we pay when they unload cargo that comes (as import).
The government should pay some attention to this sector; the sector has been neglected for a long time. We engaged past governments in discussions, but nothing ever came out of it in the long run. We expect them to look at what we are doing. The concession agreement is a tripartite responsibility, which includes the government, terminal operators and the NPA. We all have something to bring to the table to make our seaports efficient, conducive and cheaper.
We need the passage of the Ports and Harbour Bill; it is still holding us back. It will take care of a whole lot of issues, like the regulatory institution for the port industry. We need the government to look at the sector and see the potential, which is huge. It is capable of solving Nigeria's financial problems. What people are quick to do is condemn concessionaires; but we just constitute five per cent of the issues associated with the success of the ports.
The government should engage all stakeholders before policies are made. All sides of the story should be heard. That way, we will be in a better position to collectively arrive at a conclusion, not one that is being arrived for us. What often happens is that some people somewhere just tell the government s what is happening. It is like people shaving our heads behind our backs. Perhaps we have suggestions that would help the government generate more revenue.
Why are our seaports so expensive for doing business?
The high costs reside in the numerous agencies at the ports, imposing all manner of levies on the importers. There are terminal operators, shipping companies and clearing agents who are all part of the cost chain at the seaports. Who knows how much clearing agents charge to clear goods? There are government agencies: the Nigeria Customs Service, SON, NAFDAC and so on. They all add up to the total cost of doing business at the ports. Terminal operators' charges are just one among many levies. What about others? At least you can see what we are bringing to the table. We discharge the cargo; we store them in a secure place. We are developing the ports. The value of what we have added to port operations can be seen physically; but what about the others? I don't understand what the rest are charging levies for. There is this seven per cent port development surcharge on the importer, which I don't understand. It is being collected by the government for port development. All these roads we are talking about should be fixed with that money. Our charges are legitimate and statutory.
Source: Punch