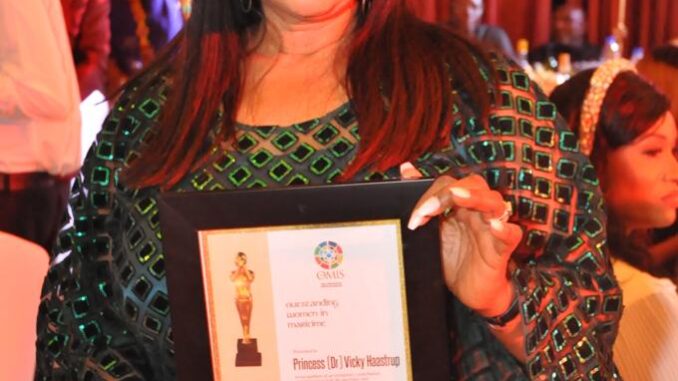 The Chairman, Seaport Terminal Operators Association of Nigeria (STOAN), Princess Vicky Haastrup, has won both the Outstanding Maritime Woman of the Year and the Most Outstanding Maritime Woman of the Year awards at the Maritime and Offshore Award ceremony held weekend in Lagos.
The award was organised to recognise and celebrate individuals and organisations that have contributed to the development of the maritime industry.
Haastrup, who is also the Executive Vice Chairman/CEO of ENL Consortium, thanked the organisers of the award for bestowing the honour on her.
She expressed commitment to the development of the maritime industry, stating that the industry has huge potentials, which if well harnessed, can help address the economic challenges facing Nigeria.
She commended the Minister of Transportation, Engr. Mua'zu Jaji Sambo, for his commitment to the renewal of expired port concession agreements.
"We are happy for the new Minister that has given us a lot of encouragement and has promised that all the expired leases will be renewed within 45 days. We look forward to a new concession agreement that would bring comfort to everyone," she said.
Haastrup, who was honoured with a special commendation award by the Maritime Workers Union of Nigeria (MWUN) in June this year, reiterated her commitment to the welfare of port workers, including dockworkers.
"Our dockworkers are key workers. We must continue to fight their course because they cannot fight for themselves. I am their greatest advocate and I am happy that since we came on board as port operators, we have placed their wellbeing right on the front burner. Today, I am happy that our dockworkers have conditions of service and are well paid unlike the ill treatment meted out to them in the pre-concession era," she said.
Haastrup has won several awards in the past, including the Maritime Person of the Year award for several years. Last year, she was nominated for the 2021 Lagos State Man of the Year award – the first woman to be so nominated in the state.
Her company, ENL Consortium also recently won the Most Outstanding Maritime Company of the Decade at the 2022 Marketing Edge Awards.
Source: Ships$Ports