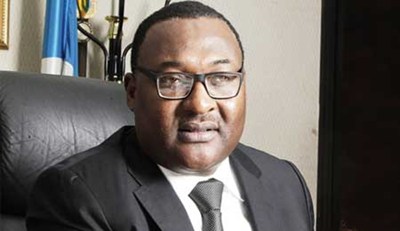 The Seaport Terminal Operators Association of Nigeria (STOAN) has urged the Executive Secretary of Nigerian Shippers Council (NSC), Mr. Hassan Bello to be mindful of his reckless comments against terminal operators at the nation's seaports.
In a statement issued over the weekend, STOAN said Bello was deliberately or unwittingly scaring away investors and port users from patronizing Nigerian ports through unsubstantiated assertions on port charges.
The Association said Bello's comments, which are published in the media and read worldwide, portray Nigerian ports in negative light to the international shipping community.
"He has been deliberately making false and derogatory statements against terminal operators to the media with the aim of damaging our reputation. He has also been creating division and tension in the maritime industry as he has consistently tried to incite one group against the other thereby risking possible labour unrest and disruption of services in the sector.
"When someone in his position makes such utterances, the international shipping community reacts and vessels which plan to come to Nigeria will either come at a premium or go elsewhere. These comments also scare away the much-needed foreign direct investment in the maritime sector.
"Such comments are not only baseless and unpatriotic but unbecoming of a senior public official," STOAN said in the statement signed by its Spokesman, Mr. Bolaji Akinola.
"Our modest achievements and system-oriented operations within a relatively short time have been identified to be unfavourable to those who would have preferred a business-as-usual disorderly environment.
"Without a doubt, terminal operators have added much value to our ports and to the Nigerian economy in recent times," the association added.
STOAN observed that Bello's comments are designed to seek relevance and justify the illegal actions taken by the NSC, which the association is challenging in Court.
"The various attacks and unfounded allegations being peddled around about excessive charges and rent seeking behaviour by operators is a figment of the imagination of NSC and a calculated attempt by Mr. Hassan Bello to discredit private operators who are committed under their Concession Agreements to the positive repositioning of Nigerian ports and adopting international best practices and internationally competitive rates/charges.
"Mr. Bello has designed his propaganda in such a way as to undermine the achievements of terminal operators at the port and justify NSC's purported appointment as regulator, which we are challenging in Court as being ultra vires its powers and lacking in statutory enablement," the association said.
STOAN said that notwithstanding the tough operating environment under which they operate, its members have invested over USD1billion in the acquisition of modern cargo handling equipment, facility upgrade, information and communication technology and manpower training and development over the past nine years.
"No fewer than 1,204 modern cargo handling equipment have been acquired by private terminal operators across the various terminals at the nation's six major seaports since 2006.
"The seaports include Lagos Port Complex and Tin Can Island Port both in Lagos; Delta Port, Warri; Calabar Port, Calabar; Rivers Port and Onne Port both in Rivers State."
"Contrary to Mr. Bello's false assertions, everyone including the Minister of Transport, Nigerian Ports Authority (NPA), Bureau Of Public Enterprises, importers, freight forwarders, other very senior government officials and stakeholders acknowledge that we have tremendously boosted efficiency at the port as shown in the Key Performance Indicators (KPIs) recorded by NPA.
"It is therefore regrettable that Mr. Hassan Bello chooses to turn a blind eye to the truth and reality in order to be seen to be "working" as the purported commercial regulator of the industry.
"Suffice it to re-iterate in conclusion that his actions are contrary to the clear terms of the Concession Agreements between the terminal operators and the Federal Government of Nigeria to which the NSC is not a party," Akinola added.