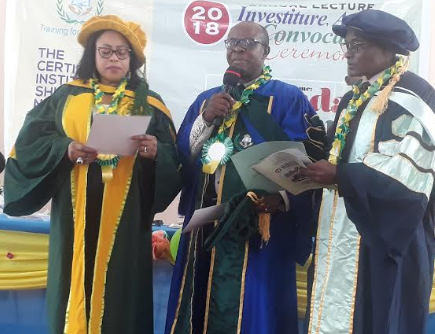 The Chairman, Seaport Terminal Operators Association of Nigeria (STOAN), Princess Vicky Haastrup, has lamented how the menacing Apapa gridlock, which she described as a monumental national disgrace, is frustrating operations at the nation's seaports.
Speaking at the Certified Institute of Shipping of Nigeria (CISN) Annual Lecture, Investiture, Award and Convocation ceremony in Badagry, Lagos on Thursday, Haastrup said terminal operators are operating under the harshest business environment, in spite of the huge investments they have made towards developing the ports.
Haastrup, who is also the President and Governing Council Chairman of CISN, wondered why successive governments in the country allowed the port access roads to progressively degenerate until they became impassable.
She said, "The situation in Apapa particularly as it relates to acess to the port is a monumental national disgrace. How can a sector that has such huge potential and that generates billions of naira for government be left to degenerate? Government is looking for oil but we have a sector that has the capacity to give you all the revenue you need, yet the sector is suffering. Why has it not been attended to?"
The STOAN Chairman said the large number of tank farms located within Apapa has also compounded the chaotic gridlock, while more licenses are still being issued to new tank farm owners.
"We have over 60 tank farms in Apapa. Is that not a national disgrace? Yet we are still granting more licenses for people to build tank farms," she said.
The Registrar of the institute, Gabriel Eto, in his paper presentation titled "Setting Agenda for Solving Maritime Transport Challenges", noted that the absence of a functional and an efficient multimodal transport system has resulted in a situation where the maritime transport system is in comatose.
Eto said the sorry state of "maritime land access infrastructure" has also led to the decline of agro-allied commodities export from 7000 tonnes to a measly 100 tonnes.
He therefore urged the National Assembly to fast track the passage of maritime service bills including the National Transport Commission bill awaiting Presidential assent to address the problem of transport infrastructure in the country.
"The seaport is a goldmine and you don't kill the goose that lays the golden egg but government policy and neglect of things happening in and around the ports is making the ports to be handicapped," he said.
The Rector of CIS, Professor Alex Okwuashi, commended Princess Hasstrup for her support towards the development of the institute.
He said the institute has so far graduated over 5000 students in various diploma courses since its inception 19 years ago.
He said, "Recently, we signed MoU with three different universities to award their degrees and diplomas but earlier we had MoU with Ladoke Akintola University of Technology. We started running masters degree in shipping since 2005 till date."
Source: Ships&Ports