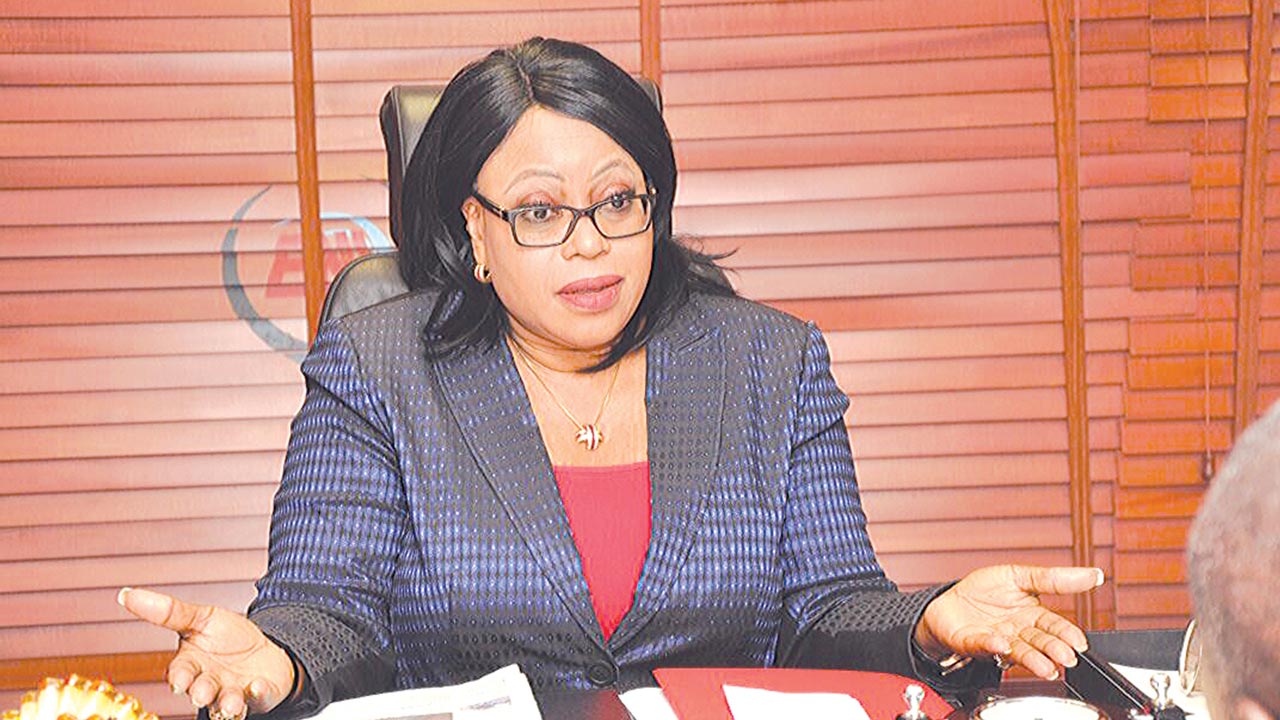 Princess Vicky Haastrup is the Executive Vice Chairman/CEO, ENL Consortium Limited, the entity that manages Terminals C and D of the Lagos Port Complex, Apapa. But not many knew that Princess Haastrup, a philanthropist of repute and great supporter of women empowerment, started going to farm at age six and hawked items in both Lagos and her village to keep body and soul together. The hardworking and multi-talented wife of a former Deputy Governor of Osun State, Prince Adesuyi Haastrup, shares all of these and more with Chika Amanze-Nwachuku and Ugo Aliogo
Tell us about your background?
I was born in a small village in Kwara State called Ijara-Isin, under the Isin Local Government Area, Kwara State. I belong to the Ara-oke group, an ethnic group of Yoruba speaking people. I went to primary and secondary school in Nigeria, after which I proceeded to Pitman College in London. Initially, I wanted to be a Personal Assistant; not a Secretary per se because I met a lady who was a Personal Assistant at one point and I liked the way she carried herself and I thought that was the best.
So, to do that, I went to Pitman College, London. But after that, I was not satisfied, I wanted to do a lot more, so I went to Holborn College and I studied business management. I also went to London School of Business because I wanted to enlarge my coast on how to run a business.
From the age of six, I started going to the farm; I was living with my aunt because my parents were not living in the village at the time. I was the only child of my mother, not my father. My father was almost 70 years old when I was born and he died at the age of 120 years. So when you have a father that is that old, you can imagine what it is. People say I have the wisdom of an older person because my father was old when I was born. He was almost 40 years older than my mother. I lived with my aunt during my early years, I will go to the farm as early as 4a.m and that was what made me the woman I am today. I saw farming with my aunt in the village as a lifestyle that actually helped me to imbibed hard work, because she was a very hardworking woman.
My aunt gets to the farm before anybody. Her sense of entrepreneurship was second to none in the village and I grew up with her. I went to high school at a neighbouring village called Igbomile Grammar School. I grew up learning how to work with my hands, going to farm. After faming, I go hawking in the village. My background really helped me to be the woman I am today. So, I was used to working hard from my childhood so to speak. So tell me how such a person will not want to work. It is something I was born and grew up with.
How did you meet your husband?
My husband is a wonderful man, who encouraged me to be the woman I am today. I will give him the praise for supporting me. Some men for whatever reasons, they choose not to support their wives to work. But my husband is quite different from other men. He supported me in reaching whatever goals I set for myself. He tells me the sky is my limit that whatever I want to do, he will give me his support; and of course me being on this seat today, he is the main reason beside God.
What attracted you to him?
What attracted me to him basically was his gentle deposition to life. He is a man of few words. When you look at Prince Haastrup and me, people say 'how does he cope with this woman' because I am more a chatterbox, I talk more, while he is a man of few words. We are so different in attitudes, but that complements us because if your home is too quiet, it will not be interesting. I am an outgoing person, I talk more. What I like about him is his ability to listen. When I want to talk, he will listen to me and offer his advice. He will let me do whatever I want to do. He will also allow me to make my mistakes. He will not just condemn me. Most times, he lets me make my mistakes; he sees it as a part of learning.
Are you involved in women empowerment programmes given your success story?
I am just about to start that because it is becoming very obvious to me that women in businesses must also empower other people especially the younger ones that are coming behind us. It is important that we encourage them and let them know that it is time for Nigerian women to rise up and put themselves in strategic positions in all sectors of the economy. There is nothing a woman cannot achieve; as a matter of fact, I think we can do much more. In Nigeria, we have very few women, either as ministers or permanent secretaries or directors in government. But I think that is not fair.
Women at the end of the day need to be encouraged. We were the ones that carried the men in our tummy. Have you ever seen a man who existed without a woman carrying him in her womb? So, why that discrimination against women? Why are we doing gender consideration when it comes to appointing people into positions of authority in Nigeria? Back to the question you asked me, I have an NGO that is tailored towards helping the artisans in Nigeria, particularly from Kwara State, because it is not everybody that can get education. We have a lot of young men and women out there who are hawking. Like I said, I also hawked at one point, in the village and in Lagos. So, when I look at them, some of them might be able to get education, some of them might be intelligent enough but did not have the opportunities. For people who couldn't get education, they could be electricians, they could be plumbers, hair dressers, dress makers, and soap makers. They could do all sorts of things and I tell you all of these areas are what individuals with higher degrees are doing nowadays.
There are individuals who qualify as lawyers, but you see them not practising. You see some of them producing perfumes and packaging them. I know of an individual who makes natural healthy snacks and she is making good income from it. She also studied in England. What I am saying in essence is that I need to put a lot back and sow into the lives of women being a woman and a strong woman for that matter.
Having achieved what I am today by the grace of God, I need to be able to touch the lives of other women. I need to empower other women, I need to encourage them and pass the baton over to them. I need to encourage them that if I can be what I am today, any woman can do likewise. I am mentoring a lot of women. I am a motivational speaker at women conferences to encourage women and beyond that I am matron to Women In Clearing and Forwarding, Women In Logistics and Transports, and a lot of women organisations look up to me for mentorship.
You operate in male dominated business. How have you been able to weather the storm or do you feel intimated sometimes?
Why should I feel intimidated? No man can intimated me no matter who you are? I can stand before anybody, I am like a biblical word that says if you are diligent in your works, you can stand before kings and princes; that is who I am. I have spoken before former President Jonathan at a maritime retreat inside the Aso Villa. I can stand boldly before any president and tell him the truth he needs to hear. People appear before the President and tell him lies. But in my own case, I told Mr. President that everybody that had spoken at the conference had not told him the truth. I told him what he needed to hear and I did exactly that. I am bold and courageous. I am not afraid to speak the truth; anybody who knows me knows that. This is why they call me Margaret Thatcher of the maritime industry because at meetings I speak my mind, I don't care even if you get angry with me.
But the fact is that if the truth is not spoken, things cannot get solved. We need to be bold and courageous. If dockworkers could not intimidate me and make me run away, no one else can. I inherited over 5,000 dockworkers; then, who else can intimidate me?. If you can deal with dockworkers, you can deal with anybody in Nigeria. Dockworkers today in Nigeria call me their mother, but it was tough. So today, they call me 'dockworkers mother'. I am their mother in Nigeria and they are happy. When they are angry, I treat them like my children. At one point, they threatened to kill me, if I didn't go away and I said to them that they cannot kill me because I have a job to do which government has given me to do and I will do it. So I tell them if you don't fall in, you will fall out.  Why should I be afraid of men? Are they not human beings? They are not more intelligent than women.
Do you think it is ripe to have a female president?
Yes it is ripe to have a female Nigerian President. It is more than ripe. The men in Nigeria have tried it and they failed. Maybe, they should give a woman a chance to become president of this country. When Hilary Clinton wanted to be President of America, when they looked at it from statistics, the women that voted for Donald Trump, were more than the number that voted Hilary. We women are enemies of ourselves everywhere in the world and that is why we are still lagging behind. We are supposed to support each other and that is what we don't do.
Women need to rise up to this occasion and support each other. We need to have a woman as President; we have not even produced a woman Governor. We had one woman who was Governor of Anambra State, who got there by chance. We need a woman voted for the job. Why do we discriminate when it comes to appointing women into positions of authority.
First, women are afraid to take part in politics. Women should not be intimidated by men. They should go out there and compete with men because we have gotten all its takes, they have intelligence; we have too; they can talk, we can too; they can shout, we can too; they can bully, we also can bully. Whatever it is that they have it is not an issue of physical strength; it is not the issue here. We are talking about being able to run a state or a country.
The Australia had a female Prime Minister. We have the German Chancellor, Angela Merkel, she is doing so well. We also have the United Kingdom Prime Minister, Theresa May. The Croatian President, who drove the national football team to FIFA World Cup in Russia, is a woman. We women have to come together and invoke this spirit to encourage each other.
What are your low moments?
My low moment is when the enabling environment is not there at work. Recently, I was very low. My low moment is when things seem not to work. You want to deliver, but you cannot deliver because the enabling environment is not there, that makes me sad; because Nigeria should not be what it is. The country is blessed in every sense of it. Few years ago, Nigeria had the money to fix everything in Nigeria. We had the finance to fix roads; we had the finance to fix hospital in order to have world class hospitals in Nigeria; what did we do with the money? There are no places where we can open tap and water is gushing out. Is that not sad? In the late 70s and 80s, when we were growing up, there was pipe borne water running through our taps in Lagos. You really didn't need to dig your own borehole.
But today, what has happened? We all are federal government in our homes; you dig your own borehole, you have your own electricity, you do your own security. What is wrong with Nigeria? Are we getting better? What Nigeria was in 1980, see what it has become in 2018.
Should China be better than Nigeria? China had a visionary leader who brought about change. When people are stealing Nigeria money and they are going after them, they call it intimidation. Has bribe become a way of life for us in Nigeria?
It is shameful because Nigerian children are suffering, women are suffering and pregnant women are dying, children cannot go to school and people cannot feed themselves because some people are sitting on billions of naira that belong to Nigerians. That is why I said women can make a change.
Source: ThisDay