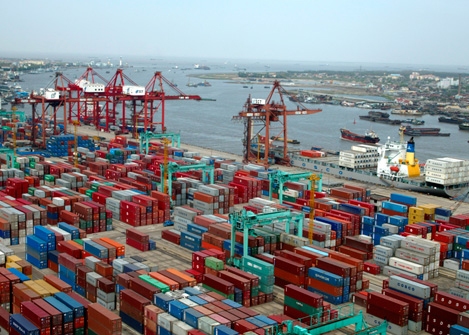 Foreign investment inflows hit N200b
For eight years, spanning from 2007 to 2015, Nigerian seaport operators lost not less than N89.8 billion in handling charges owing to exchange rate fluctuation of the American dollar to the naira, according to a report released by Akintola Williams Deloitte.
The survey also revealed that the sector attracted N200 billion Foreign Direct Investments (FDIs) into the country as at 2015.
However, the report identified insufficient power supply, dilapidated port access roads; traffic gridlock at the ports; uncertainty of policy direction with non-passage of industry legislative bills and "blurred assignment" of regulatory functions, among others as some challenges hindering accelerated growth in the sector.
Titled "Nigerian Ports and Terminal Sector: A critical analysis of challenges and opportunities for growth," the document noted that as a result of the aforementioned challenges, the business environment had not enabled the industry to reach its full potential as the hub of maritime in the West African sub-region.
According to the report, the 2006 port concession had resulted in significant improvement in port operations in the country.
"For example, there has been the emergence of larger vessels with improved cost effectiveness, improved cargo-handling technology and delivery speed as well as reduced unit freight cost.
"In addition, the concession has increased Nigeria's port competitiveness, reduced waiting time for ships and enhanced movement of goods across international borders and offshore manufacturing".
The survey further explained that the sector witnessed increased participation of foreign and private investors in terminal operations, investment in new port facilities and equipment as well as investment in automated computer tracking system and establishment of new ports.
Explaining further, the report said private sector developments were responsible for the improvement in the overall key performance indicators (KPIs) at the ports, including ship waiting time, ship turn around time, dwell time, container moves per hour, customs examination time and overall cargo clearance time.
However, the document clarified that despite progress recorded so far, "there are still significant improvements required to build a sustainable and viable sector".
It added: "Majority of the challenges to be addressed are linked to a lack of synergy amongst the key enabling agencies in the sector and also a lack of regulatory reform to support the transformation that has happened in the sector".
A further breakdown of the report indicates that the nation's maritime sector would continue to play a critical role in Nigeria's growth and socio-economic development.
Source: TheGuardian