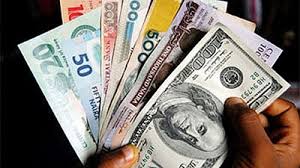 SEAPORTS Terminal Operators Association of Nigeria (STOAN) on Monday said revenue accruable to its members had dropped by 58 per cent due to slide in naira value and low import since the beginning of the year.
Dr Vicky Haastrup, the association Chairman, told newsmen in Lagos that the current exchange rate of naira to the dollar had eroded Terminal Handling Charges.
Most of our commitments are in dollars; what we charge today is effectively 42 per cent of its value in 2006 when you convert to the dollar.
This is significant for us because we now need more naira to fulfil our dollar commitments.
It might be recalled that in 2006, one U.S. dollar exchanged for about N130 but today it is more than N220 to the dollar which implies a significant decline of about 65 per cent in the value of the national currency since port concession," she said.
Haastrup said the situation had been compounded by drop in cargo volume at the ports since the beginning of the year.
Vessel call dropped by half in the first month of this year. Volume also dropped significantly by an average of 27 per cent across the various terminals.
Some terminals suffered more drop in volume than this," she said.
The STOAN chairman said that only 29 vessels were declared for the Lagos Pilotage District (LPD) between the last week of February and the first week of March 2015.
This number includes tankers, container vessels, general cargo vessels and all. It is very unusual.
Ordinarily, about 60 vessels would be declared within the same period," she said.
The STOAN chairman also said that some policies of government on importation were affecting the volume of cargo handled at ports.
For instance due to the automotive policy, the number of cars and vans discharged in Lagos ports dropped from 27,000 units in January 2014 to 8,000 units in January 2015.
It must be noted, though, that in the first half of 2014, the volume of vehicles imported was extremely high in anticipation of the introduction of the new duty regime on vehicles.
The average number of cars and vans imported for previous years was in the range of 20,000 units per month. We are talking of more than 60 per cent drop in volume here.
For trucks, the volume dropped from 2,700 units in January 2014 to 1,700 units in January 2015.
In Cotonou port, the total number of cars and vans discharged in January 2015 was 30,000 units against 20,000 units discharged in January 2014.
This represents a 50 per cent growth. Similar trends have been registered also for trucks.
This means Cotonou is gaining from Nigeria's loss due to the auto policy as more importers are discharging there. These vehicles will eventually find their way into the Nigerian market," she said.
Haastrup said the same fate had befallen general cargo terminal operators, especially those handling rice and fish.
Terminal operators are generally facing a tough time here. This certainly is not the best of time for our operations.
Notwithstanding these challenges, our members remain committed to reforms at the ports.
We have achieved tremendous success in the ports and at our various terminals with well over one billion dollars invested collectively by terminal operators, and this has resulted in a more efficient port operation.
We will continue with the success story, including the congestion and vessel queue which we successfully eliminated upon take-over in 2006.
Upgrading of port facilities; and the continuous transformation of our ports in line with the vision of President Goodluck Jonathan are major milestones in the history of the seaports," she said. (NAN)
http://www.ngrguardiannews.com/2015/03/terminal-operators-revenue-eroded-by-58-says-association/