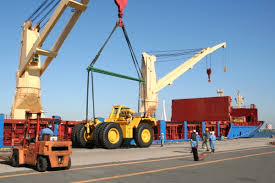 TERMINAL operators at Nigerian seaports acquired not less 1,204 cargo handling equipment between 2006 and 2014.
Nigerian Ports Authority (NPA) General Manager (Compliance and Monitoring), Joshua Asanga, who disclosed this at a conference in Lagos on "The experience of compliance with concession agreement eight years after," explained that the equipment acquisition cut across the various terminals at the nation's six major seaports.
According to Asanga, the seaports include Lagos Port Complex and Tin Can Island Port both in Lagos; Delta Port, Warri; Calabar Port, Calabar; Rivers Port and Onne Port both in Rivers State.
Meanwhile, the minister of transport, Idris Umar, has directed the management of NPA to compile a detailed report on the activities of concessionaires' performance in the past eight years.
Umar said the federal government is interested in progress made since 2006 when the concession agenda commenced and 2014, pointing out that non-compliance will no longer be tolerated.
Represented by the Executive Secretary, Nigerian Shippers' Council (NSC), Hassan Bello, Umar said the main purpose of embarking on port reforms which among others include to reduce the cost of port services and promote competition in provision of port services, make Nigerian ports the hub for international trade and shipping in West and Central Africa sub-region has not been achieved.
However, the minister said the concession agenda has brought increase in local and foreign investments in infrastructure and cargo handling improvement, which according to him has increased cargo throughput by volume of trade.
He said: "From 82 million tones in 2012; with container volume at 1.4 million TEU's in 2011 1.6 million TEUs in 2012 and 1.7million TEU's in 2013. ″
Haastrup-11-3-15Haastrup
The Managing Director of NPA, Habib Abdullahi, also used the opportunity to clarify that not the port concession arrangements devised roles and allocate different obligations to both NPA and the concessionaries.
He said: "Obligations were allocated based on what each party can do best. These issues relating to regulations, security, infrastructure, access, marine service and channel management were allocated to NPA."
Abdullahi explained that the arrangements also transferred issues of cargo handling, commercial risk, provision of superstructure, terminal development and terminal labour to the terminal operators; adding that it was for this essence that NPA set up an appropriate framework for monitoring and compliance.
He said a new division was established to carry out this task and report to the management every quarter,
"This task is handled by a committee comprising departments that have responsibilities on the issue of obligations of the parties"
Detail of the equipment, according to Asanga, include 578 acquired by operators at the Lagos Port Complex, Apapa, made up of Apapa Bulk Terminal Limited 82; ENL Consortium 138; GDNL 93; LCDNL 20 and APM Terminals 245.
Operators at the Tin Can Island Port acquired 383 cargo handling equipment made up of Joseph Dam 124; TICT 61; Port & Cargo Handling Services 161 and Five Star Logistics 37.
Intels and Julius Berger, both operators of Delta Port acquired 50 and 53 equipment respectively, making a total of 103; while Calabar Port operators collectively acquired a total of 60 cargo handling equipment. They include Ecomarine Terminal 31; Intels 15 and Shore Line 14.
At Rivers Port, PTOL acquired 40 cargo handling equipment while Bua acquired 8 bringing the total to 48 while the operator at Onne Port, Intels, acquired 32 equipment made up of 16 each at the Federal Ocean Terminal and Federal Lighter Terminal.
Asanga said the concessionaires have tremendously boosted efficiency in their areas of operation as seen in the Key Performance Indicators (KPIs) recorded by NPA.
He explained that as against an average vessel waiting time of about 30 days before port concession, terminals such as APM Terminals, Ecomarine, PTML and Intels Calabar have successfully eliminated vessel-waiting time to zero while ABTL has 2.8 days and ENL 1.4 days as against an average general cargo vessel waiting time of about 45 days prior to concession.
Speaking at the event, Chairman, Seaport Terminal Operators Association of Nigeria (STOAN), Princess Vicky Haastrup, said tremendous sacrifices were made by government and private operators to achieve the milestone recorded in eight years of port concession.
Explaining further, Haastrup who was represented by the Managing Director of PTOL Terminal, Mrs. Lizzy Ovbude, said: "The Federal Government Port Concession programme began in 2005/2006 with agreements entered into by and between the Bureau of Public Enterprises (BPE) as confirming party for the Lessor and mid-wife of the entire scheme, the Nigerian Ports Authority (NPA) as the Lessor and Terminal Operators as the Lessee.
"These agreements were duly executed by respective parties indicating that all parties to the agreement know exactly what obligations are imposed on them.
"In the last eight years of port concession, a lot of positive changes and developments have taken place in all our ports, as highlighted below:
"Rehabilitation and reconstruction of quay aprons and stacking areas; expansion and reconstruction of container terminals; rehabilitation of terminal access roads; provision of lightening facilities including generating sets; rehabilitation of the sheds/warehouses; reconstruction of drainages; construction of perimeter fencing and gate houses; and improved workshop facilities of modern standards," said Haastrup.
Making reference to plants and equipment, Hasstrup said tremendous progress has also been made by the terminal operators, adding that they have invested heavily in the acquisition of modern state of the art forklifts and acquisition of container handlers for cellular trade demand such as gantry cranes, reach stackers, handlers and others.
She said the terminal operators were also successful in streamlining stevedoring companies; establishment of an acceptable manning scale to ensure high productivity; application of direct interview selection; employment of dock labours with joint effort of stevedoring contractors under the supervision of Nigeria Maritime Administration and Safety Agency (NIMASA); elimination of zoning and permanent berth ownership by dock labours; improved salary structure and better welfare packages and training and re-training as well as capacity building opportunities.
Haastrup explained that terminal operators' investment and application of strategic measures resulted in continuous ship discharge/loading operation within the working time without erratic stoppage of ship operations; strict monitoring of allocated labour to achieve projected productivity; achievement of high level of discipline and control of extortion; eradication of pilferages and reduction of damages to cargoes and properties as a result of effective safety and security management; improved turn-around time of vessels leading to increased productivity and elimination of under-declaration of cargoes, leading to more revenue generation for the government , due to draft survey exercise and effective documentation.
The STOAN Chairman said: ":In addressing the security challenges of the ports, the concessionaires apart from constructing standardized perimeter fencing, made the following provisions: A well trained security outfit, that is compliant with the NIMASA certification in compliance to ISPS Code; installation of security gadgets such as CCTV, and improved communication system and construction of security posts and watch towers at designated areas in the terminal.
"Waterfront security to an extent has improved in some ports. In order to forestall fraud and other corrupt vices associated with bureaucratic processes, concessionaires have expended huge capital in the establishment of I.T compliant processes, which also are connected to the Nigeria Customs Service system, thereby reducing terminal service-time and unnecessary procedures," she said.
Haastrup said relevant statutory agencies such as Nigeria Customs Service, NPA, NIMASA and others have contributed to the present port development and trade facilitation by channel expansion and draught increase which have enhanced larger vessels reception, creation of ships' lane according to trade for effective traffic control and developing the concept of Build Operate And Transfer (BOT) on Green Field Port development which has increased capacity expansion and service choice.
"The effects of these well-deserved huge capital investment are the improvement in the Cargo Throughput and Vessel Traffic generation. Let me assure you that the Terminal Operators will continue to add value to the port system in Nigeria to be able to compete favourably with other ports of the world. The operators here in the last eight years have done comprehensive economic and infrastructural developments in our various terminals. We have created jobs and promoted industrial harmony with the hope of making Nigerian ports the hub of Africa".
http://www.ngrguardiannews.com/2015/03/terminal-operators-deploy-1204-cargo-handling-equipment-in-eight-years/